Enterprise Resource Planning system is intended to facilitate the business/company with information that impacts their decisions and ROI. Depending on the need of an organization it will require different ERPs. For instance, manufacturing/retail company will require smooth inventory management, consulting firms will look for enhancing their daily operations, elsewhere different commerce stores will need assistance with integrating services and managing finances.
So, depending upon the business and requirements ERP system feature varies to fit best for your corporation. Be it Finances, HR, Production, Orders or Inventory you could expect all of these features on an ERP platform. Talking about the ERP software platforms, mainly there are some legacy ERP systems which continue to reflect a strong impact on businesses:
– NetSuite ERP
– Business Cloud Essentials
– Sage3
– SAP
– Odoo
In this blog, we will discuss two of the main ERP system platforms- SAP and Odoo which have evolved many businesses and maximize their ROI while looking after the factors such as reduction in operational costs and improvements in returns.
Know more about Odoo and SAP ERP Software Solutions
Odoo ERP is a power-packed management solution that is built on an open-source framework suitable for both small and large enterprise resource planning. It offers various modules for accounting, sales, human resources, manufacturing, inventory, project management and so on. Topping it all, it also easily integrates with the website builder, POS, CRM, and various eCommerce apps to centralize the whole business process.
On the other hand, SAP is a mid-market ERP software solution helping small and medium businesses in automating their finance, human resources, productivity, and business analysis. It is divided into different components in order to manage different business processes. Apart from financial and sales features, SAP has also made various modules available for supply chain management, inventory operations, BI, and project management aspects. Its flexibility of providing mobile access and cloud tools has made it as go-getter for people wanting to reduce errors and data inconsistencies.
Let's take a closer look at the comparison chart of Odoo and SAP.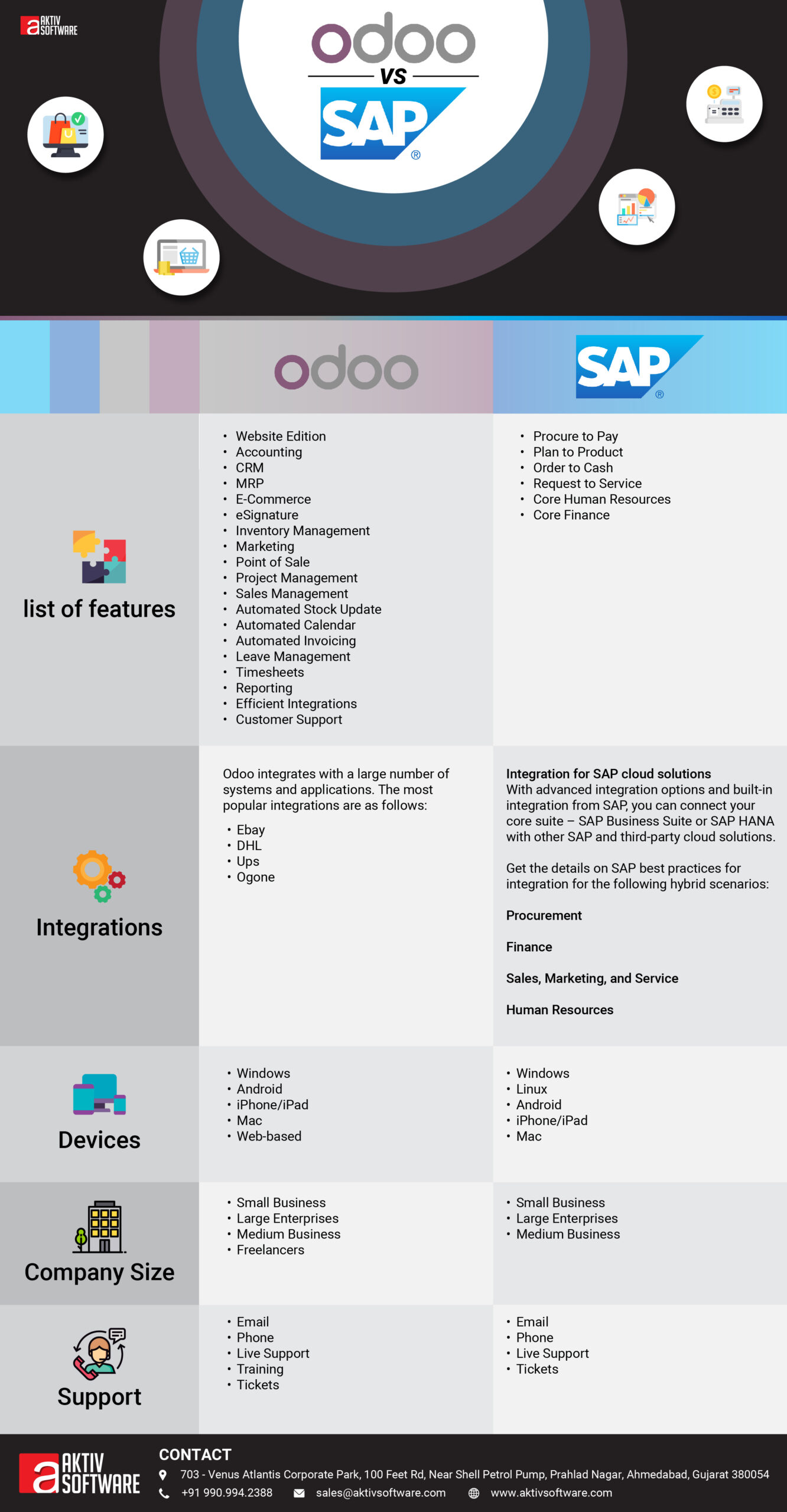 The inevitable effect of Open-source Odoo on SAP's dominance since years
SAP has been one of the oldest ERP solutions in the market while Odoo is open-source ERP found since 2014. Still, Odoo is becoming an apparent replacement for SAP as it provides a suite of open-source business apps. Also, the cost factor is in favor of Odoo as people are always looking for a cheaper alternative if there is not much difference in the offerings part. SAP is one of the largest ERP software providers and is also mature enough to deal with most complicated scenarios but on the other hand, it is not flexible enough to handle the manufacturing processes.
Here comes Odoo, who has a better alternative when you don't have bigger budget for customizations and handling complex requirements of the enterprise. If you are SME and looking for a cost-effective ERP solution platform then Odoo ERP is easily deployable and will fit in your requirements easily.
At Aktiv Software, we have a team of certified Odoo developers who could help you in customizing and deploying Odoo for your business. Be it working on project-basis consultation/development or dedicated module, we are flexible when you look forward to choosing from various engagement models. Check out our Odoo development services and contact us for a free consultation now.